Honestly, I started this article a few weeks ago (before the Predators losing streak and subsequent injury to Viktor Arvidsson) thinking about how the Predators roster is just… off and maybe a trade is needed to clear things up. It was meant to be a more positive article just focused on an overabundance of talent and clearing up a center glut for this season and beyond. In that context it made sense that Kyle Turris would be the most likely piece to be moved.
Now that Turris has fallen completely out of favor and has been scratched for multiple games in a row in favor of two call-ups from the AHL, it is both a more pressing and more complicated topic. Why his spot in the lineup has reached this level of impasse is a mystery to all outside the Predators organization. During the Thanksgiving Eve matchup with Vegas, Predators GM David Poile finally spoke to the situation in an interview with members of the Predators media contingent. Poile stated that Turris' status is "…the roster decision of what we think and specifically our coaching staff feels is our best lineup…" and he "…envisions Turris having a role on this team…". While it is a positive step that Poile has publicly addressed the situation the quotes really don't shed a whole lot on how we got here other than just a coaching decision.
In truth, Turris has been fine this season. He's been one of the better forwards in terms of driving offense and has contributed on the stat sheet when skating with other top 6 players. What all this leads me to believe is that the reasoning behind Turris being benched is a coaching decision but it is not linked to attitude, a lack of production or a refusal to play on the wing. In my opinion, after last season's massive disappointment and the subsequent signing of Matt Duchene, coach Peter Laviolette decided he was done with Turris. Now that sounds harsh so let me clarify. I don't believe Laviolette thinks Turris is a bad player, I just don't think he's the type of player the coach wants.
Laviolette wants skilled players who can also play a heavy game, which just isn't Turris. Early in the season Laviolette gave Turris a token chance but also took the first opportunities to drop his usage and eventually remove him from the lineup. David Poile, a historically coach-trusting general manager, has been willing to stand by Laviolette's decision. While Poile said that Turris will get back in the lineup, if a losing streak and an injury to a top 6 forward wasn't enough to get Turris back in the game then what could be? All that points back to a trade, which is a complicated proposition.
Why is it so complicated you might ask? Turris plays a premium position, has a history of production and isn't necessarily overpaid for a top 6 center. Well first of all, Turris' scattered usage and recent benching means his production-based trade value is about as low as it could be. Second, his remaining contract of 4 more seasons at $6M AAV are tough to take on for all but a select few teams. Looking around the league it will take a team that fits at least two of the three below criteria for a Turris trade to make sense on both sides:
Need for a top 6 center, or at least the flexibility to push an existing top 6 to wing to make lineup space for Turris
Room or ability to clear room to take on a $6M contract
Close enough to playoff competitive to justify adding a 30 year old center
So what's the answer? There are teams out there who fit at least a couple of the criteria above who could make good trading partners. We will explore these below. To note, I am absolutely looking at best case scenarios where the Predators and David Poile make a trade that nets an impactful asset and is not just a cap dump on Turris' contract. Without further ado, the teams that could realistically be on the other side of a Kyle Turris trade:
New Jersey (8-10-4, 6th in Metropolitan; current cap room = $6.04M):
Top centers – Nico Hischier, Jack Hughes, Travis Zajac
Trade target – Taylor Hall ( 22 GP, 4 G, 16 A, 20 P, 77 SOG, 5.2 SH%, 48.6 %CF 5v5)
Look, I get that this one isn't easy but it is so intriguing. Adding Hall to the Predators lineup creates a top 6 that rivals any in the league. Just imagine a top line of Hall, Duchene and Forsberg. In a theoretical trade for Taylor Hall it will certainly take much more than Turris to return the former Hart Trophy winner. But New Jersey is also scuffling in the NHL standings this season and with multiple reports that Hall will look elsewhere free agency there could be some synergy between these two clubs. Turris would give NJ a steady, veteran scoring center to offset any youthful slumps plus would give flexibility to try either at wing should coach John Hynes look to stack the top 6. Also, the extra pieces NSH would need to throw in (likely a first and one of the higher end forward prospects) to complete the trade would enhance their long term build. It would be interesting to see if the Devils would consider taking one of the pending UFA's (Smith or Granlund) in a potential deal as it would help offset the loss of Hall and would be significantly cheaper on an extension.
LA Kings (9-13-2, 8th in Pacific; current cap room = $7.32M):
Top centers – Anze Kopitar, Jeff Carter, Trevor Lewis
Trade target – Tyler Toffoli ( 23 GP, 6 G, 6 A, 12 P, 60 SOG, 10.0 SH%, 53.6 %CF 5v5)
The Kings are a mess; stuck between a core hitting their 30's and a need to rebuild into a younger and more dynamic roster. The result has been an objectively bad team last season and an equivalently poor start to '19-20 season. Tyler Toffoli falls right into that middle ground as a winger with multiple productive seasons but also hitting his late 20's and up for a new contract. Toffoli would be an excellent fit in the Preds middle 6 with his shooting talent and propensity for getting to low slot areas.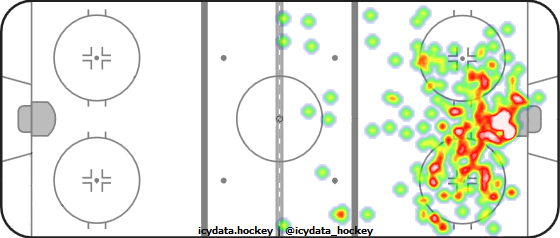 Turris should immediately help the Kings by providing a center who can pivot the second line and allow Carter to drop into a more specialized third line/power play role. That also pushes Trevor Lewis to the fourth line where he is best fit and can be the second shutdown pivot after Anze Kopitar. NSH may need to sweeten the trade pot to get LA to take on the full Turris contract but it shouldn't take more than an extra pick. Another option, as recently mused by Adam Vingan of The Athletic, would be a swap for Ilya Kovalchuk. There is some logic to the move as both teams want to get out of the respective contracts but I have a hard time seeing Kovalchuk and Laviolette getting along well.
Buffalo (11-10-3, 6th in Atlantic; current cap room = $1.10M):
Top centers – Jack Eichel, Casey Middlestadt, Evan Rodrigues
Trade target – Colin Miller ( 19 GP, 0 G, 4 A, 4 P, 31 SOG, 0.0 SH%, 46.7 %CF 5v5)
Nashville's 3rd pair needs help. Dan Hamhuis has been solid so far but the right side is a horror show. The last few games have seen a called-up Steven Santini and Matt Irwin playing his off side (which is objectively terrifying to watch). Colin Miller would be a significant improvement over any of the existing right hand options. He skates well, can move the puck and prior to this season he has been a consistently positive possession player. Buffalo finds itself in a tricky spot of being 6th in their division but only a few points from being back in playoff contention.
From a roster perspective, Buffalo is currently carrying 8 defensemen plus at least one more, Lawrence Pilut, is waiting in the AHL. The depth is useful, but trying to rotate this many players prevents the chemistry building that allows a team to fulfill their potential. While the Sabres also have a small group of excellent forwards, the lack of depth certainly creates extra pressure on the top group to consistently produce (if this sounds familiar, look at pretty much the entire history of the Predators). To that end, adding Turris into their lineup could bring a significant uptick in capability and consistency to the Sabres forward corps. The challenge lies in just how they could work Turris into their extremely messy cap situation. Buffalo is currently using LTIR money so there would need to be a significant contract swap. Miller covers $3.8M but for the trade to work either the Preds would have to retain $2.2M of Turris' $6M or another player would need to be included.
Edmonton (16-7-3, 1st in Pacific; current cap room = $1.01M):
Top centers – Connor McDavid, Leon Draisaitl, Ryan Nugent-Hopkins
Trade target – Jesse Puljujarvi (22 GP, 24 P; Liiga – Karpat), Kris Russell ( 26 GP, 0 G, 4 A, 4 P, 22 SOG, 0.0 SH%, 44.5 %CF 5v5)
If Nashville is to keep their Stanley Cup contention window open, they will need cost-controlled talents to complement the high dollar players making up the core of the roster. Jesse Puljujarvi certainly fits the bill as a former 4th overall selection who, for a variety of reasons, just has not worked out in Edmonton. Combining Puljujarvi with the rising Preds talents in Milwaukee and the CHL the future of forward talent looks awfully bright. On the other side, Edmonton is the only team on this list currently in a playoff spot. They are brought forth primarily by the duo of McDavid and Draisaitl who are destroying worlds with their scoring ability.
The rest of the Oilers roster, especially at wing, leaves a lot to be desired in terms of overall quality. Bringing in Turris would allow the Oilers to kick one of the big 3 centers to upgrade the wing and still have a 1/2/3 punch down the middle that rivals any in the league. In the current iteration of the Oilers defense, Kris Russell is an expensive piece who is likely standing in the way of younger talents contributing. While he would only represent a modest upgrade on the likes of Yannick Weber, a reduced role against lesser competition should better use his capabilities. Acquiring Puljujarvi along with Russell provides the value to take on the larger contract for Russell. From the Oilers vantage point, Russell is a necessary inclusion since the Oilers are also up against the cap. Swapping Russell for Turris by losing a player that won't play for them anyway is a winning trade.
(Author's note: I originally had included Montreal as an option with Jonathan Drouin as the return. Any of you who have read my previous work know I have advocated going after him for some time. Given the nature of the Turris situation, the need for resolution and the expected length of Drouin's injury, I decided to remove him at this time. Montreal is still an intriguing option given their cap space but I don't see much else in terms of return that is interesting.)
My Recommendation:
As much as I would love to see Poile go for the home run and call up the Devil's about Hall, I just don't see him potentially committing to another major contract. While the Buffalo potential matches probably the best in terms of need/fit, the salary issues for the Sabres may be too much to overcome. That leaves the trades with the LA Kings and Edmonton. Personally, I'd rather see Poile go after the Oilers and bring back Puljujarvi. He would come to the US on a team primed to win with multiple Finnish players to help ease the transition. Taking on Russell limits the flexibility the rest of the season but he could be bought out after the season if he were unwilling to be traded. The Oilers should also be motivated to improve the balance of their forward corps looking ahead to the stretch run. As a fallback, adding a player like Toffoli from the Kings would only enhance the firepower of the forward corps without requiring a longer term commitment.
David Poile quote credit: Robby Stanley, NHL.com
Information and Statistics courtesy of: hockeyreference.com, Naturalstattrick.com, Icydata.hockey, Capfriendly.com