These are confusing times for the Nashville Predators. While they now boast one of the more robust forward groups in the NHL (and score regularly as a result), the defensive abilities of the team are somewhat representative of cheesecloth.
While the team struggles to find its identity, Micah Blake McCurdy of hockeyviz.com has provided one that makes a fair bit of sense, as they trend towards "we may win, but I may die."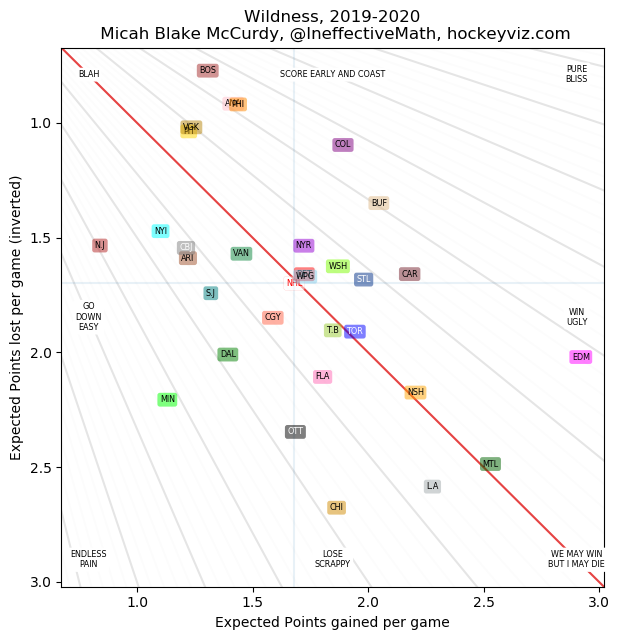 With four points in three games, the Predators arguably did have a positive week. The team produced an impressive 15 goals, but allowed an equally impressive 14. As I said, confusing times.
Let's break down the performances of each forward line and defensive pairing throughout the past week. All of the stats below are from five-on-five; no special teams included.
Forwards
Only one Nashville forward line has excelled in recent games, and it should be no surprise who it is. Filip Forsberg, Matt Duchene, and Mikael Granlund have been possession monsters. When they take the ice, it's uncommon for the opponent to have the puck for any length of time. Duchene's hockey sense and puck handling abilities, combined with Forsberg's well-documented skillset and Granlund's speed make for a lethal combination.
Otherwise, Nashville's forwards have been a whole lot of "meh." Peter Laviolette is still trying to find the right combination involving Ryan Johansen and Viktor Arvidsson. They've had good moments with Calle Jarnkrok, but have yet to hold up their end of the "one-two punch" expected from this group.
I do sympathize with Kyle Turris, who is (as anticipated) stuck in depth winger purgatory. I don't expect Turris to be on par with Johansen or Duchene, but he will certainly not produce much alongside the likes of Daniel Carr or Rocco Grimaldi. What's worse, the practice lines suggest he might find himself with Austin Watson soon. I'll go on a limb here and suggest strongly against that.
Defensemen
While Nashville has shown some extreme weakness defensively, it's hard to place much of the blame on the defensemen themselves. For the third consecutive season, we're seeing a trend from Nashville of an elite top four and disastrous bottom pair.
Mattias Ekholm and Dante Fabbro have been decent over the past few games. Their overall shot attempt differential of -9 is concerning, but they aren't allowing much in terms of quality scoring chances.
Roman Josi and Ryan Ellis have stolen the show as of late, producing very impressive Coris and expected goal differentials over the past three games. The team could use a little more from the pair in terms of high-danger scoring chances, but the forwards aren't often meeting them halfway.
The third pair of Matt Irwin and Yannick Weber has been a catastrophe. Replacing Irwin with Dan Hamhuis stops the bleeding, but this pair is more of a "non-factor" than anything.
Goaltenders
Perhaps most worrying for Predators fans is the performance of the team's backup goaltender, Juuse Saros. He got the start against Los Angeles on Saturday, and did his team no favors in the crease. A silver lining is that he started last season on a similar note, but ended the season with the better stats between the two goaltenders.
Pekka Rinne has continued to defy his age, often stealing wins from opponents when the rest of his team is nowhere to be found.
The week ahead
Tonight, the Predators have a very tough matchup in Las Vegas. The Golden Knights are an extremely dangerous team offensively, and have a real opportunity to expose some of Nashville's less-than-stellar characteristics.
The week's other two games should, on paper, be slightly simpler affairs for the Predators. The Arizona Coyotes are experiencing serious deja vu, with defenseman Niklas Hjalmarsson suffering an extended leg injury. That said, the team has performed surprisingly well to start the season, especially defensively. A perpetual headache for the Predators, the Coyotes should not be taken lightly.
Finally, a home bout against superstar Aleksander Barkov and the Florida Panthers should provide heaps of excitement on a Saturday night.